Here is something you might want to see in Honolulu regarding Ilocano culture for all the Ilocanos out there living or vacationing in the Aloha state.
Source of the News Article: The Philippine Daily Inquirer
Ramrambak in Honolulu to celebrate Amianan culture, events
INQUIRER.net US Bureau / 08:15 PM September 18, 2017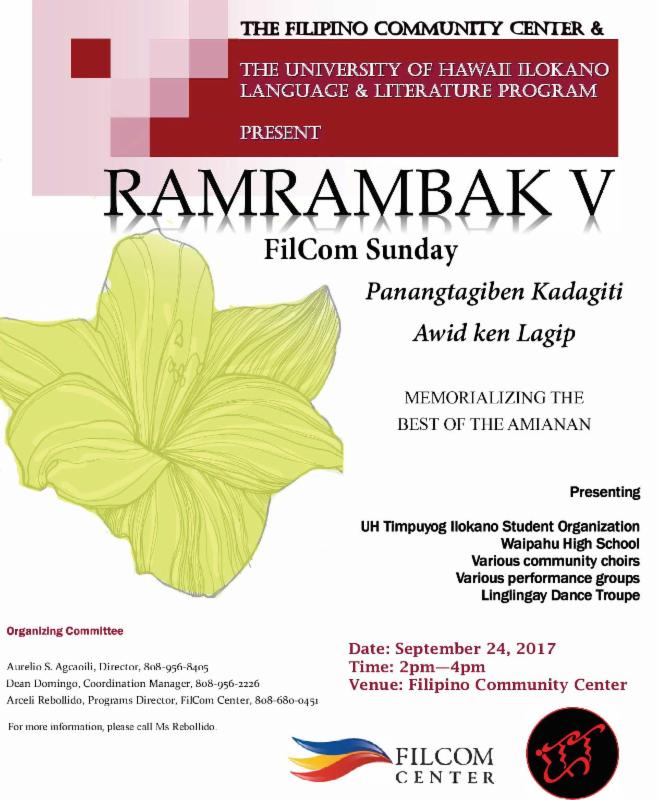 HONOLULU — A cultural showcase featuring songs, dances and snippets of dramatic performances will highlight Ramrambak 5, a FilCom Sunday event that has become a tradition in Waipahu.
Ramrambak is an Ilokano term that translates to "celebrations." The two-hour cultural celebration to be held at the FilCom Center Ballroom will begin at 2 p.m. on September 24 at the Filipino Community Center.
Donnie Juan, executive director of the Filipino Community Center, and Dr. Gina Jamoralin, consul general of the Philippine Consulate General in Honolulu, will open the celebration.
First organized in 2012 when Rose Cruz Churma was president and CEO of the Filipino Community Center in Waipahu, the September event is on its fifty year.
For one Sunday afternoon, community members from various parts of the island come and watch the performances of dance troupes, high school students, college students, professional performance groups and civic organizations
The cultural showcase has been organized by Aurelio S. Agcaoili, program coordinator for Ilokano at the University of Hawaii at Manoa, with Prof. Dean Domingo, instructor of the UH Manoa Ilokano Program, serving a coordination manager.
Arceli Acosta, director of programs of the FilCom Center, has provided logistical and administrative supportive and organized the selling of bentos and native food in a fiesta-like atmosphere.
First conceived as a cultural celebration of Amianan cultures including those of the Ilocanos, the Cordillera people and the other ethnolinguistic groups in Northern Philippines, Ramrambak will feature performances by high school students taking up Ilokano at Farrington High School in Kalihi, students taking up Ilokano at Waipahu High School, students taking up a college-credit course in Ilokano at the University of Hawaii at West Oahu, college students of the University of Hawaii at Manoa, student members or officers of Timpuyog Ilokano Student Organization of the UH Manoa Ilokano Program, terpsichoreans of Linglingay Dance Troupe, members and officers of Coro Filipino and individual performers like Eugene Tunac, also of the University of Hawaii at Manoa.
Timpuyog Ilokano Student Association will also feature an exhibit of material culture of the Amianan people. The exhibit will include abel of all kinds, rare and old books, baskets, and other artifacts.
Students of the UH Manoa Ilokano Program will be on standby to explain the context and uses of these artifacts. The program is open to the public.
For more information on the event, please call Arceli Acosta at 808-680-0451.