SF Bay Area Fil-Ams to meet Hillary Clinton Jan. 7
@inquirerdotnet
INQUIRER.net U.S. Bureau
12:46 AM December 31st, 2015
Filipino supporters of Hillary Clinton will join other Asian Americans in a special meeting with the presidential candidate in Southern California.
DALY CITY, California — San Francisco Bay Area Filipino American supporters of Hillary Clinton are preparing to ride the "HillaryBus" from Daly City to San Gabriel Valley in Southern California, to meet their candidate at the official launch of the Asian Americans & Pacific Islanders for Hillary on January 7, 2016 at 10 a.m.
Fil-Ams for Hillary organizers have chartered a US Coachways bus to take supporters from the Bay Area to the venue in San Gabriel Valley and drive them back to the Bay Area.
The group plans to gather at 9 p.m. on Wednesday, January 6, at the Pilipino Bayanihan Resource Center at 2121 Junipero Serra Blvd. (near Duggan's) in Daly City to leave for San Gabriel Valley by 10 p.m. The same "HillaryBus" will return its riders to the pick up point the next day by 10 p.m.
The "HillaryBus" ride to and from the launching venue in San Gabriel Valley promises to provide its riders with opportunities to meet and be acquainted with others who share the same passionate commitment to the election of their candidate.
A number of Hillary supporters explained that they were completely offended by the demeaning remarks of Republican front-runner billionaire Donald Trump who has denigrated women, immigrants, Asian-Americans, Muslims, the disabled and hard-working Americans who want a decent living wage.
Trump has also come under fire from Filipinos concerned about the fate of approximately 400,000 Filipino "TNTs" or those who are out of status even though they have lived and worked in the U.S. for decades. They are among the 12 million "illegals" Trump plans to deport from the U.S. if he is elected president.
But Trump is not the only Republican presidential candidate who has offended Asian Americans. Former Florida Gov. Jeb Bush also did it when he clarified in August that his reference to "anchor babies" was not intended to offend Latinos.
"What I was talking about was the specific case of fraud being committed where there's organized efforts, and frankly its more related to Asian people, coming into our country, having children in that organized efforts, taking advantage of a noble concept with this birthright citizenship," said Bush.hillary rsvp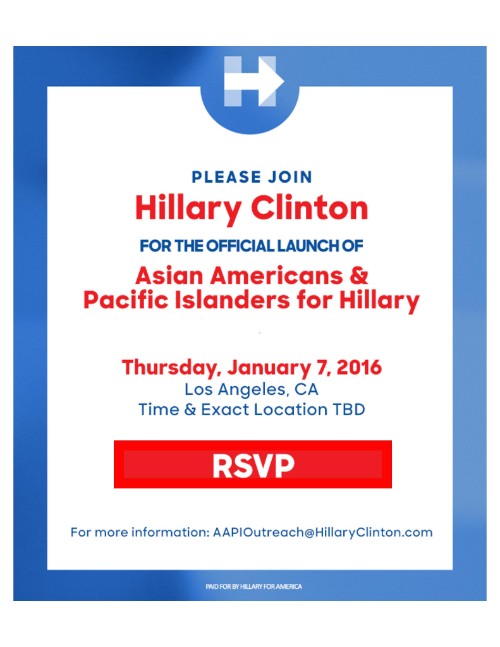 "We need Hillary Clinton in the White House," said Rep. Judy Chu, chair of the Congressional Asian Pacific American Caucus. "But how are we going to make this happen? We can only make it happen if the grassroots is activated, if the grassroots works hard in every sphere, in every corner of the United States."
Chu, the first Chinese American woman elected to Congress, expressed confidence that the Asian American Pacific Islander community, which includes Filipino Americans, is the fastest growing population in the country, and will make a critical difference in battleground states.
"Asian Americans have gone from being marginalized to being the margin of victory," she said.
At San Gabriel Valley, Bay Area Fil-Ams will connect with Filipino Americans from all over California and Nevada and personally meet Hillary Clinton. Among those who will be there to welcome them will be Artesia Mayor Pro Tem Victor Manalo, who believes Hillary's victory will be beneficial for all ethnic communities, including Filipinos.
"I think we need to realize that in many instances, we all want the same things. We all want good educations, good jobs, and we want to be a part of the economic, social, political system in this country," Manalo said.
"And I think having Hillary as president, having a woman a president will give government a point of view that people need to be included and not be excluded and will help in seeing where the inequities are in our society," he added. "So we, as Filipinos, will benefit from that."
The round trip "HillaryBus" fare to San Gabriel Valley from Daly City will be $30. Interested HillaryBus riders can contact Rodel Rodis at 415.334.7800 or email him at Rodel50@aol.com.
Like us on Facebook
Article Source: The Philippine Daily Inquirer